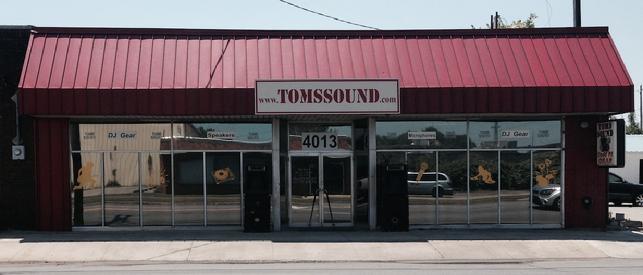 4013 1st Ave North Birmingham AL
Toms Sound is a retail store specializing in used PA gear. Our store is well stocked with speakers, mixers, dj gear, wireless mics, studio gear, lighting, cabling and all the accessories. We have a competent, knowledgable staff with many years of experience in the sound business. We don't sell musical instruments so no listening to teenagers banging away while you try to shop.
Services offered at Toms Sound:
Sales of used PA gear and some new
Rentals of PA gear, DJ rigs, Wireless mics, lights, video projector and more
Repairs of most PA gear.
Many speaker repair parts on hand

TomsSound
4013 1st Ave. North
Birmingham AL 35222
205-595-4530
sales@tomssound.com

Tomssound POP UP Sale and Music ShowCase
Support Local Bands, Artists and Business. Local business hire local people, pay local taxes, occupy local (formerly abandoned) real estate and provide personal service.
We have going to have a special fun day here at Tomssound. Some very cool local vendors will set up in the rear of the shop during the day. (lt's a big space) At night we will have some excellent local bands, (all Tomssound customers) with Casey Thrasher as the headliner. Casey was on this year's American Idol. Here is the schedule:
Tomssound will be grilling free hot dogs and other goodies
Seasick Records

Antique and other cool collectables
Functional Metal Art and Custom Pieces
Fun Household Items, folk art
Vintage Home Stereo, Clearance PA gear, Specials, deals on overstock items
**************************************************
We buy good used PA, DJ, Studio and Lighting equipment. Cash Paid!! Call or come by.
Website powered by Network Solutions®